New Year celebrations in Thailand

In Thailand, New Year's Eve and New Year's Day are both public holidays and provide an opportunity for people to party at the various New Year Countdown events. From Bangkok to Chiang Mai and Pattaya to Phuket, music concerts and firework displays welcome in the New Year. In Chiang Mai and other areas of the North, it has been a tradition to release khom loy lanterns into the night sky on New Year's Eve. According to local traditions this is a way of floating away the troubles of the old year and wishing for good luck in the year ahead.



Christmas celebrations in Thailand

Despite the fact that Christmas isn't an official holiday in Thailand, many hotels and shopping malls do put up Christmas decorations. Thai people like a chance to celebrate and the colorful and kitsch aspects of Christmas have been embraced. If you're on holiday in Thailand on December 25 and still want to enjoy a taste of home, there are plenty of hotels and restaurants in the main tourist areas where you can enjoy a traditional Christmas Day dinner. But don't worry if you've come to Thailand to get away from the excesses of the festive period. Pull up a simple plastic chair at any local restaurant or food stall and tuck into tasty local food.

Christmas Day is a normal working day in Thailand, but there is a small Christian population in the country who do celebrate Christmas with religious services at churches. And in the north-east province of Sakon Nakhon, there is a beautiful Christmas Star Parade which celebrates the Christian heritage of the historic Ban Ta Rae community. Buildings are decorated with star-shaped lamps and giant illuminated stars are paraded through the streets on Christmas Eve.



Making use for the New Year spiritually

If you don't want to party, but still want a memorable way to see in the New Year, many temples hold special merit-making ceremonies on New Year's Eve. You don't need to be Buddhist to join in, but do dress respectfully and cover your knees and shoulders. Many people in attendance will wear a white top for these ceremonies with white denoting purity in Buddhism.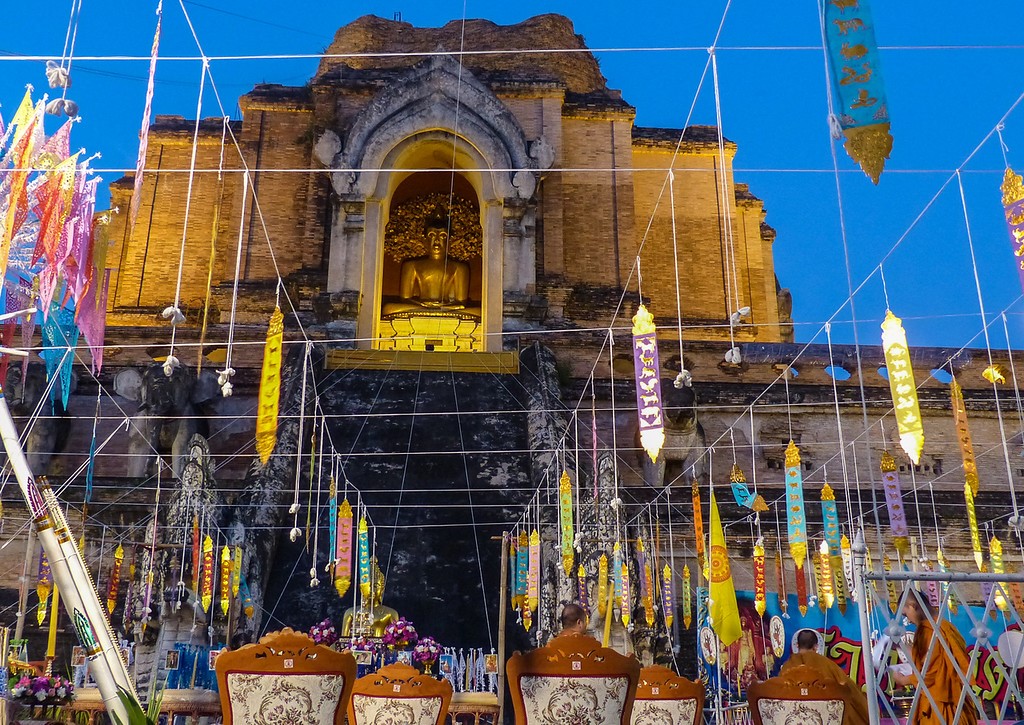 Ceremonial white thread, known as sai sin, is used during the New Year ceremonies. The thread is tied to a Buddha image and then passed through the hands of the monks leading the ceremony and then on to the congregation. As the monks chant, the associated merit is then symbolically passed along the thread so that it can reach everybody present. Temple fairs are also held in many provinces around Thailand at the end of the year and provide another way to make merit and raise funds for the upkeep of the local temple.



The three new year festivals in Thailand

If you can't get enough of the New Year celebrations, then Thailand is definitely the place to be with the country able to welcome in the New Year on three separate occasions. December 31 sees parties and fireworks as the clock strikes midnight, but there are still two more New Year events to follow in the Thai festival calendar, The Chinese New Year, which usually falls in January or February, is also celebrated by many Thais. And in April, Thailand is in party mode again with the most eagerly anticipated holiday of the year, Songkran Thai new year holiday.



New year season is coming soon, let's decide to go somewhere , doing something with someone for celebration on special day that you design.

Sandysujittra Team