Morning with the Monks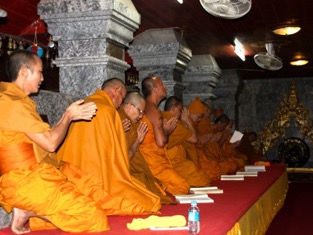 By travel-off.com
Dawn is a magical time of day in Northern Thailand, as monks clad in saffron robes emerge from their monasteries to collect alms. And nowhere is this sense of spirituality stronger than at the sacred Doi Suthep Mountain, near Chiang Mai. Leave your hotel at 6am in order to witness the serene procession of monks, before ascending the 309 steps of the Golden Naga staircase to reach the golden pagodas at the top. From here, continue to the tranquil Wat Umong, which dates back to the 14th Century and contains a network of tunnels and caves. Receive your own private blessing here.
Thai Boxing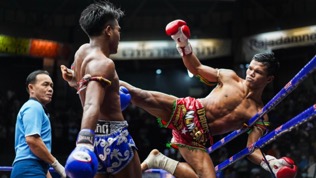 By Nikkei Asia
The ancient art of Muay Thai (Thai Boxing) has long captivated visitors to Thailand. A night in one of Bangkok's professional boxing arenas will send the adrenaline racing your body.
Surrounded by music and ritual, the event is much more than a straight forward face-off. An age old art form combining skills found in many martial arts from across Asia, Muay Thai is a truly captivating experience, both brutal and beautiful.
The Street Art of Bangkok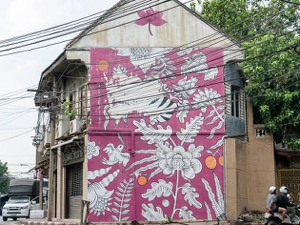 by Tanisorn Vongsoontorn/Time Out Bangkok
Spend a morning getting a unique perspective on Bangkok. You'll explore the street art and local lifestyle of the city's old quarter with a neighborhood guide leading the way.one place recommended is Song Wat Road. This historic road boasts three largescale murals, all by international artists. The first art piece you will encounter as you enter the road from Wat Pathum Khongkah is a pink mural by Romanian artist and illustrator Aitch, who has displayed her work at numerous art shows across the globe. As you walk down the stretch, you will see two giant artworks facing one another at a parking lot overlooking the Chao Phraya River.
Sukhothai Historical Park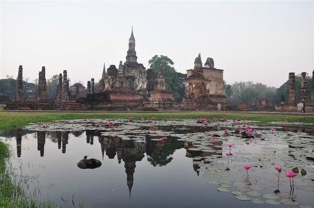 By trip advisor
Take time to explore Thailand's ancient history at Sukhothai Historical Park, the capital of the first Kingdom of Siam and now a World Heritage Site. Because it's so spread out, the park is never crowded. You can wander among the Sukhothai Buddha statues and pagodas mostly on your own. A good site museum explains what it all means. Meanwhile, the riverside setting and green landscapes are very beautiful. The things to do in Sukhothai make for a fascinating and enjoyable visit much more so than the other popular Thailand ruins at immensely crowded Ayutthaya. Note that the attraction gets crowded at peak hours; you can zoom past the masses on a rented bicycle.
Ayutthaya Historical Park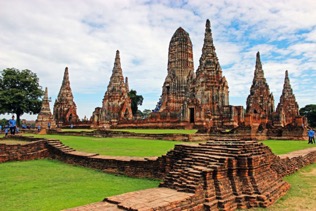 By UNESCO bangkok
Discover Thailand's rich and compelling history at Historic City of Ayutthaya, a settlement founded in 1350. The second Siamese capital. Train is the cheapest option. Buy a 3rd class seat – it'll cost you 15 Baht (about 50 cents US) and will take on average 2 hours from Bangkok's centrally located Hua Lamphong Railway station. And there are tons of trains doing the route throughout the day.
When there hire a Tuk Tuk when you arrive in Ayutthaya. It's the easiest way to see a whole bunch of temples in a day. When you get off the train you'll have Tuk tuk drivers asking you if you want to hire them. Pick one you like. The going rate is 200 Baht an hour. Tell them the temples you want to visit (that's the next section).
Phuket Old Town Tours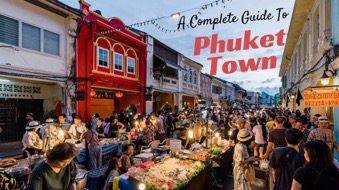 by nerd normads
This is a fun way to discover a quaint side of Phuket. Cycle through the old town taking in the historic Sino-Portuguese architecture enjoying stops at the islands oldest Chinese school and an antique museum. Gain an understanding of the influence immigration and tin mining in the 19th century had on Phuket and end the day perusing and tasting colourful exotic fruits at the downtown market. This tour will allow you to appreciate the cultural heritage and rich history of the island that that is often overlooked by tourists.
Bangkok Walking Food Tour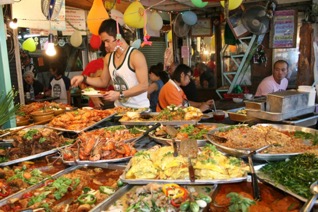 By coconuts
The Bangkok Walking Food Tour is a superb meander through old Bang Rak District. Savor the after-dark pleasures of Bangkok's legendary street food scene during this evening food and sightseeing excursion by tuk-tuk. Travel aboard one of these iconic 3-wheeled taxis, stopping to sample sizzling roadside favorites like charcoal-fried noodles and pad Thai You also experience attractions like the flower market and the famous Wat Pho temple illuminated at night
WELCOME TO THE LAND OF SMILES.