Synthetic indigo dominates the fashion world today, but there has been a very recent resurgence in appreciation for the natural version in contemporary fashion, particularly with ikat and other traditional handmade textile techniques being so on-trend.

While you probably can't pick up a pair of naturally dyed indigo jeans at the mall, the dye has been spotted in the collections of more high-end designers. Smaller, more expensive labels allow for individuality and quality to be valued over mass production, which means indigo dyeing, can be more feasibly incorporated.

And with eco-friendly design being so popular among earth-conscious fashion makers and consumers, the idea of such a beautiful and special natural dye is certainly appealing.

Among the array of indigo-dyed clothing available in town, today you can find hand woven Fabrics in vivid colors adding color to style

Popular clothing items include dresses, shirts, skirts, and pants. Sometimes instead of a tie-dye design, the thread will be dyed to be able to create woven patterns seen in traditional Thai women's skirts.

There are various designs and fashions for indigo fabrics that foreigners and exotic fashion designers have picked interest. The evolution of fashion has made indigo preferable across the globe hence a big recommendation for anyone coming to Thailand.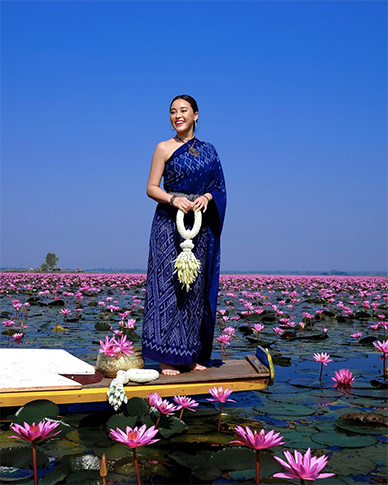 by thepassion.in.th
Middle class consumers see fashion as the ultimate form of self‑expression. Nowadays, clothes have more than a practical purpose. People feel more confident if what they wear matches up with their personality, identity and mood

The whole world knows about Thailand's beautiful traditional silk and fabrics. It's loved for being hand-woven, sturdy, and great choices for souvenirs. The fabric is also strong and lasts forever.

Thai silk may be gorgeous, but it's clearly been left out of contemporary urban fashion and streetwear for a while. Thoughts of Thai silk have long been confined to thoughts of the "old days", rural living, or weddings. But the great thing about fashion is nothing's really beyond limits. From minimalistic ivory trousers to daring tube dresses, Thai silk is now popping up in all sorts of new and accessible ways.

Take this cropped silver jacket for example. It's a perfect combination of traditionalism and modern fashion, and can easily be paired with a leather miniskirt and boots for an urban look.

Thai silk could fit right in with international trends, especially in a foreign city with similar weather and lifestyles to Bangkok.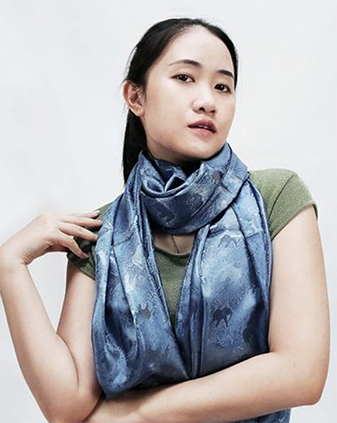 by harempantsthai.com

Mudmee, or ikat (which it is often called by expatriates), is hand woven Thai silk or cotton fabric that comes from Isaan, Thailand's Northeastern region that is made up of 17 provinces on the Korat plateau.