All Indigo Heritage products are dyed with 100% plant-based dyes, our indigo dyes are made from the Indigofera tinctoria Linn variety. This variety of indigo plant has been used for centuries in Thailand to produce a deep, rich blue color. In addition to using natural dyes Thai weavers produce a hand-loomed cotton that utilizes locally picked cotton, and is less refined (not bleached) than commercial cotton fabric produced on a large scale.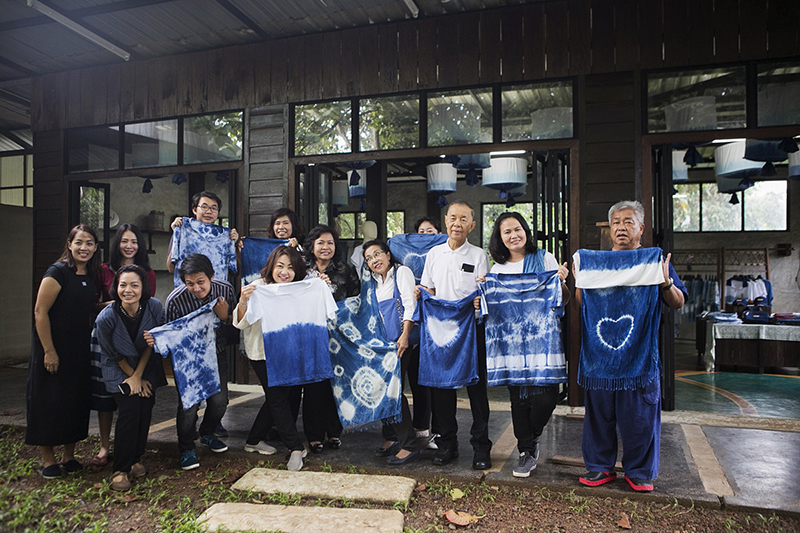 Photo by i-san.tourismthailand.org

Far north in Thailand's Sakon Nakhon province is a community that has practised traditional indigo dyeing for generations. The guardians of these brilliant-blue hues are the 'indigo grandmas', women who care for vats of color-inducing microorganisms, which they believe to have souls of their own.
The province is home to just over a million people, despite being almost 10,000 square kilometres (3,860 miles) in size. Its best known for its beautiful indigo dyes, made from the buds of the Indigofera tinctoria plant and used to colour traditional clothes and fabrics for centuries.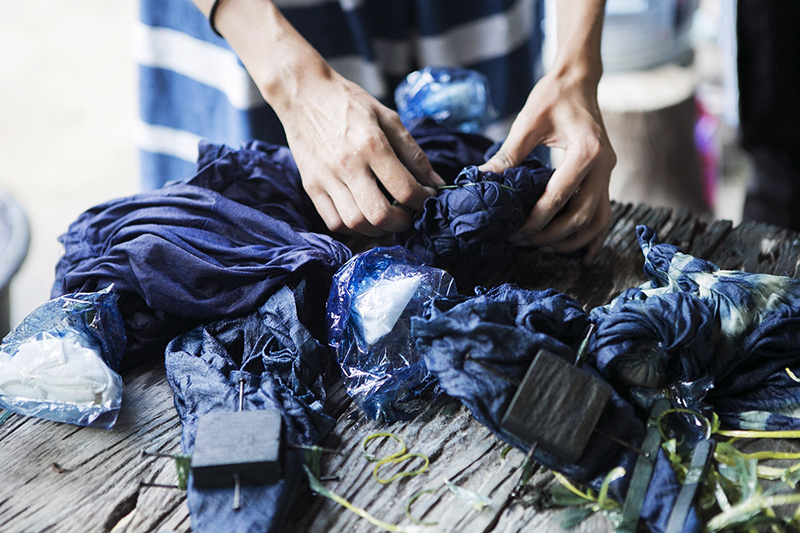 Photo by i-san.tourismthailand.org

Rural farmers here have been reaping the region's workaday blues for generations. But recently, homespun indigo-dyed clothes have come into fashion, with dyeing schools, markets and shops that accommodate modern tastes popping up in Thailand's bigger cities. The range of what's available is impressive. Indigo-dyed suits, backpacks and teddy bears are for sale along the provincial capital's Rueang Sawat Road, considered among the best spots for buying indigo items in the country.

A Trip to Ban Thung Hong (Mo Hom Indigo)

Mo hom is an organic indigo dye. Ban Thung Hong is the village where mo hom is made. The story of mo hom indigo is worth being told. The making of mo hom indigo dye, the art of indigo, and the lifestyle of mo hom apparel are all rooted in traditional Thai fashion. Mo hom apparel is often the Thai version of blue jeans and denim. Mo hom is trendy, but also working class.

When you wear mo hom apparel, you are joining an indigo fashion craze that started more than 6,000 years ago.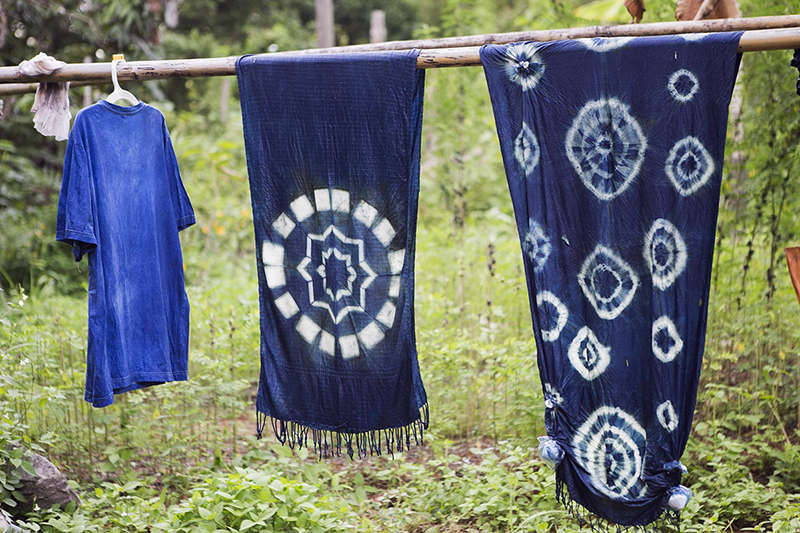 Photo by i-san.tourismthailand.org
In 1900, synthetic indigo dye was invented and quickly led to the collapse of organic indigo as dye stuff. Ban Thung Hong is one of the few remaining places where the art of indigo is still alive.

Ban Thung Hong is a village now engulfed by the growing town of Prae in northern Thailand. A few decades ago, there were a few kilometers that separated the village from Prae, but no longer. If you go to Prae, you're going to Ban Thung Hong. The village is just a couple kilometers north of central Prae on the highway to Nan. You know you've arrived when you see shop after shop displaying their indigo apparel along the highway.

Mo hom indigo dying in this village dates back over two centuries-1797 to be exact. The skills and experience needed to conjure up this complicated dye came from the Tai Puan people of Laos.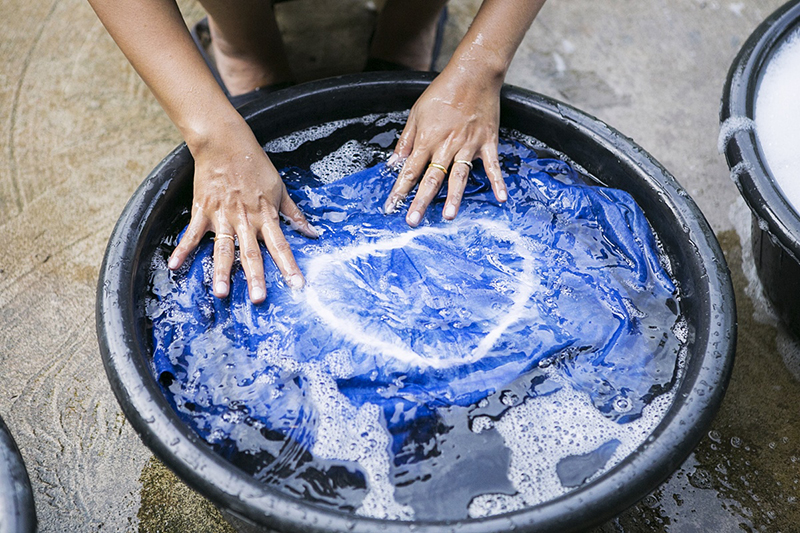 Photo by i-san.tourismthailand.org
In the very late 18th century, Prae was a city-state with its own military. It briefly conquered a part of present day Laos and forcibly relocated an entire community of Laotian Tai Puan into the village of Ban Thung Hong to work as laborers. These relocated people brought with them their experience and skills at producing indigo dyed apparel from the hom indigo plant.

Mo hom is a Lanna word (northern Thai). "Mo" means pot; "Hom" is the name of plant from which indigo is extracted. It's pronounced "Mau Haum". The plant's scientific name is Baphicananthus Cusia.

The hom indigo plant grows both wild and domestic throughout Southeast Asia and southern China. It has been used to extract indigo for at least 2,000 years.

The Thai silk weavers of Baan Krua

Thai silk is produced from the cocoons of Thai silkworms. Thai weavers, mainly from the Korat Plateau in the northeast region of Thailand, raise the caterpillars on a steady diet of mulberry leaves. Korat is the center of the silk industry in Thailand and a steady supplier of rose Thai silk for many generations. Since traditional Thai silk is hand woven, each silk fabric is unique and cannot be duplicated through commercial means. This silk has traditionally been reserved for special occasions due to its high cost so its local consumption is relatively low.

Photo by culture trip


To be able to identify genuine Thai silk easily, Thailand's Agriculture Ministry uses a peacock emblem to authenticate Thai silk and protect it from imitations. The peacock emblem serves as a guarantee of quality and it comes in four different colors based on specific silk types and production process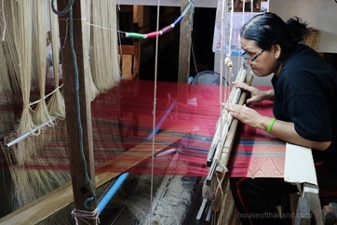 Photo by houseofthailand.com
To visit the Jim Thompson House at Klong Saen Saep is one of the most impressive and exciting ways to explore Thai History, through the art collection of Mr. Thompson. Looking back, the art of silk weaving belongs to an ancient culture of the Khmer people who migrated to Thailand in the early Rattanakosin era. The significant change of Thai silk, however, took place in 1955 when James Harrison Wilson Thompson (or Jim Thompson) was on his journey throughout Thailand for the ideal Thai silk. He visited Baan Krua, a small weaving community of 8 families in Bangkok, to buy a piece of sarong. He was immediately impressed by the marvelous silk from the stunning skills of Baan Krua residents.

Pak Thong Chai Silk Village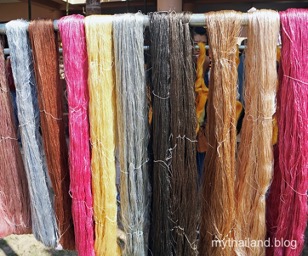 Photo by mythailand.blog
One of the most famous silk villages in Thailand, showcasing elaborate silk-weaving process, and offering beautiful Thai silk at reasonable prices. Korat silk is known for its high quality. Pak Thong Chai Village is one of Thailand's most illustrious silk-weaving villages, where villagers retain their creative skills in producing beautiful Korat-texture silk.

Photo by mythailand.blog

Though many Thai silk factories have been set up here at the village, independent local weavers still produce exquisite hand-woven Korat silk as souvenir items.

Choose the right one for you click below link : https://www.sandysujittra.com/category
More Information : My passion >> https://www.sandysujittra.com/passionsandysujittra